FARO Focus M70 Scanner Mint Condition
Selling Used Faro Focus M70 Scanner, 1-Year Manufacturer Warranty, License FARO SCENE Software and Maintenance Contract
$10700
Contact Us
FARO Focus M70 Scanner, in mint condition, System sold "AS IS"
manufacture: 2018
Condition: Lightly Used, like new condition
Scene Software and license 2019.2, Calibrated and re-certification by FARO.
FARO M70 sale includes:
- FocusM 70 with HDR photography
- Battery Power Block
- Battery Power Dock
- 90W Power Supply
- Optic Cleaning Fluid
- Optic Cleaning Tissues
- 32GB SD Card
- SD Card Reader
- SD Card Cover
- Allen Wrench
- Rugged Transport Case
- Calibration Certificate
- Quick Start Guide
- Scene Licence
FARO Focus M 70 Laser Scanner
FARO Focus M70 Laser Scanner, short-range professional grade laser scanner, a powerful 3D laser scanner specifically designed for both indoor and outdoor applications that require scanning up to 70 meters. The ultra-portable device enables fast, straight-forward and accurate measurements of small construction sites, small-scale facades, complex structures, production and supply facilities and manageable crime and accident scenes. Combining professional grade scanning technology with authentic mobility and ease-of-use, the new device offers reliability, flexibility, and real-time views of recorded data. The 3D scan data can easily be imported into all commonly used software solutions for architecture and construction, forensics and accident reconstruction or industrial manufacturing.
Features
SHORT-RANGE SCANNING - UP TO 70M: The FocusM 70 can record data up to 70 meters making it ideal for short-range measurements and small area applications
COMPACT AND PORTABLE: The FocusM 70 has the size of only 230 x 183 x 103mm and a weight of just 4.2kg. The device is provided with a waterproof transportation and ergonomic carrying case for true portability
HDR PHOTO OVERLAY: The HDR camera captures detailed imagery easily while providing a natural color overlay to the scan data captured under extreme brightness gradients
BEST VALUE FOR MONEY: The FocusM 70 is a professional grade scanner with the highest return on investment in the market
IP RATING - CLASS 54: With the sealed design, the FocusM 70 is certified with the industry standard Ingress Protection (IP) Rating and classified in class 54 against environmental influences.
TEMPERATURE: Extended temperature range allows scanning in challenging environments - take your Focus M to the desert or run a project in Antarctica
Benefits
Scanning in rough environments while providing protection from dust, debris and water splashes
The Focus M 70 delivers a full scanning workflow at best return on invest in the market
Achieve confidence in scan results by using award winning FARO quality
Maintain familiar workflows through freedom of choice in processing scan data in various software packages
Easily navigate the scanner controls using the large and luminous touch-screen
FARO FOCUS LASER SCANNER PERFORMANCE SPECIFICATIONS
FARO FocusS Plus 350
FARO FocusS Plus 150
FARO FocusS 350
FARO FocusS 150
FARO FocusS 70
FARO FocuS M70

Ranging Unit

Unambiguity Interval
614m for up to 0.5 mil pts/sec
307m at 1 mil pts/sec
153m at 2 mil pts/sec
614m for up to 0.5 mil pts/sec
307m at 1 mil pts/sec
614m for up to
0.5 mil pts/sec
Range
90% Reflectivity (white)
0.6-350m
0.6-150m
0.6-350m
0.6-150m
0.6-70m
0.6-70m
10% Reflectivity (dark-gray)
0.6-150m
0.6-150m
0.6-150m
0.6-150m
0.6-70m
0.6-70m
2% Reflectivity (black)
0.6-50m
0.6-50m
0.6-50m
0.6-50m
0.6-50m
0.6-750m
Range Noise
@10m 90% (white)
0.1
0.3
0.7
@10m 10% (dark-gray)
0.3
0.4
0.8
@10m 2% (black)
0.9
1.3
1.5
@25m 90% (white)
0.2
0.3
0.7
@25m 10% (dark-gray
0.5
0.5
0.8
@25m 2% (black)
1.6
2.0
2.1
Max. Measurement Speed (mil. pts/sec)
Up to 2
Up to 1
Up to 0.5
Ranging Error³ (mm)
±1
±3
Angular Accuracy?
19 arcsec for vertical/horizontal angles
not specified
3D Point Accuracy
2 @10m 3.5 @25m
2 @10m 3.5 @25m
not specified
ADDITIONAL PERFORMANCE SPECIFICATIONS

Color Unit

Color Resolution
Up to 165-megapixel color
HDR Camera
Exposure bracketing 2x, 3x, 5x
Parralax
Minimized due to co-axial design

Deflection Unit

Field of View
300°vertical? / 360° horizontal
Step Size
0.009 (40,960 3D-pixel on 360°)
vertical / 0.009 (40,960 3D-pixel
on 360°) horizontal
Max. Scan Speed
97Hz (vertical)

Laser (Optical Transmitter)

Laser Class
Laser Class 1
Wavelength
1550nm
Beam Divergence
0.3mrad (1/e)
Beam Diameter at Exit
2.12mm (1/e)

Data Handling and Control)

Data Storage
SDHC, SDXC, 32GB; max. 512GB card
Scanner Control
Via touch screen display and WLAN connection, Access by mobile devices with HTML5
Interface Connection
WLAN
802.11n (150Mbit/s), as access point or client in existing networks
ADDITIONAL FEATURES

Dual Axis Compensator
Performs a leveling of each scan with an accuracy of 19 arcsec valid within ±2
Height Sensor
Via an electronic barometer, the height relative to a fixed point can be detected and added to a scan
Compass
The electronic compass gives the scan an orientation
GNSS
Integrated GPS & GLONASS
On-Site Compensation
Creates current quality report and improves compensation automatically
Accessory Bay*
The accessory bay connects versatile accessories to the scanner
Inverse Mounting
Yes
Real-time, On-site Registration in SCENE
Connects to SCENE, real-time scan processing and registration, overview map
Electronic Automation Interface
Available as option, only at point of sale
Digital Hash Function
Scans are cryptographically hashed and signed by the scanner
Rescanning of Distant Targets
Defined areas recaptured in higher resolution at a greater distance
Retake Photos
Select individual photographs with unwanted objects and retake them
GENERAL SPECIFICATIONS

Power Supply
19V (external supply), 14.4V (internal battery)
Power Consumption
15W idle, 25W scanning, 80W charging
Battery Service Life
4.5 hours
Temperature
Operating: 5° - 40° C | Extended Operating?: -20° - 55° C | Storage: -10°- 60°C
Ingress Protection (IP) Rating Class
IP54
Humidity Resistance
Non-condensing
Weight
4.2 kg (including battery)
Size/Dimensions
230 x 183 x 103mm
Maintenance / Calibration
Recommended annual
FARO SCENE SOFTWARE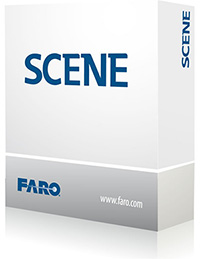 FARO SCENE is specifcally designed for all FARO laser scanners. The software processes and manages scanned data both effciently and easily by using the automatic object recognition and scan registration. SCENE is an extremely user-friendly software that allows scans to be automatically combined. The resulting point cloud can be viewed in three dimensions. All the scans are available in color and as high-contrast intensity images. The FARO Laser Scanner and the SCENE software are compatible with the most common CAD software applications and can be used to export scan data to over 50 common software solutions
Automated target-less scan registration
SCENE WebShare Cloud integration
Super-crisp visualisation
Easy processing of large scan projects
Plug-Ins for extended functionality
Homogenisation of point clouds
Software Options: The FARO Laser Scanner and the SCENE software are compatible with the most common CAD software applications and can be used to export scan data to over 50 common software solutions
Downloads
Related equipments
---